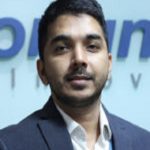 By
Deepu George
January 21, 2020
8 min read
Top 5 points to consider when developing a disruptive fintech product
The growth of a business is heavily driven by innovations in the IT industry. New technologies are hitting the market every now and then, and raising the standards of the market by helping the enterprises to get a competitive edge over each other. The market has been witnessing a massive number of fintech players attracting considerable entrants every day. Fintech is offering a wide spectrum of simplified services that give access to varieties of value-added services and quicker solutions.
Banks still follow the traditional method for banking which is challenging to fulfill the rising demand of customers. New incumbents pose a threat to these banks and their methods as they are trying hard to provide the customers with services that are embedded with new technology to overcome security issues and threats. Incorporating technologies in the traditional banking method is a step towards revolutionizing the banking sector for retaining customers.
Every customer desires an easy banking solution and Fintech companies are doing this. Today they are offering services that fulfill all the requirements catering to the needs of the customers for smart financial solutions in a flash
Some stats supporting this statement:
Digital transformation has become a business priority for 85% of banks.
Fintech services are used by every 3 out of 4 global consumers for money transfer.
Innovation is driving in the minds of 77% of financial institutions.
Teaming up with fintech startups is on the minds of 60% of traditional banks.
Fintech has become the buzzword of the market encouraging budding entrepreneurs to hitch their start-ups onto the bandwagon of the financial trend for making quick money. But like any other business, fintech requires a lot of market research, analysis, planning, and a good flow of thoughts.
This article focuses on the top 5 points that the Fintech ventures should make a note while developing a Fintech Product for the customers. They are given below:
Ease of Use
Sustainability
Technology Choice
Customer Experience
Regulations and Security
Ease of Use
Your fintech app, even with complex information, shouldn't be delivered with a clunky UX. This directly results in deleting the application and your chances of a budding application and reach to fame will get destroyed in minutes.
The financial world is surrounded by spreadsheets that have numbers and formulae. These complex financial things don't make sense to a majority of users. Therefore, creating a fintech application that tells your users about the information they need to know surrounding their investments is much simpler to grasp.
While developing a Fintech product, always see that the app is capable to make most of the decisions for the user. There are users who would fail to tell the basic difference between mutual funds or might not be able to diversify their portfolio for reducing the risks. Such FinTech innovations are still awaiting in the market.
The bottleneck increases with the users putting in more inputs further resulting in a higher barrier to usability. A successful disruptive fintech app eliminates the manual process making it easy for the user to succinctly use the app without bypassing the automation.
Sustainability
When we think about a financial product, we try to make an all-in-one financial application at a single go. But this indicates that you are striving hard to fight all the battles at once.
Understanding your customers' pain points and knowing their financial habits, develop an audience-focused application that would keep up to their requirements increasing the engagement rate with the app. The unique selling feature of the fintech app is the complexity of the problems it solves. Therefore, sustainable app development is essential where an app resolves all the financial issues that haven't been solved yet or not solved completely. This type of app development deals with market research and user-feedback for providing value to the app.
Technology Choice
Fintech has attracted a lot of technologies like Blockchain, Artificial Intelligence (AI), and Machine Learning (ML). AI and ML are much hyped due to their tremendous capabilities in revolutionizing the Fintech industry. They are considered as of the most highly invested area in the form of Robo-advisors. This highly advanced technology-driven approach is posing a challenge to the age-old financial methods. Blockchain development companies are on high-demand as this revolutionary technology has tremendous capacity to drive FinTech industry to greater heights.
Chatbots are another investment area where the banks are already started leveraging the benefits as it permits the customers to check their account-related information within the Facebook messenger. Chatbots are gaining popularity among the banking sector due to its tremendous capacity to streamline customer interaction processes, more popularly known as conversational banking. Chatbots have the capacity to integrate with various applications and technologies for providing facilities to automate numerous queries and thus, gathering financial information from the customers. Virtual assistants are handy and are contributing more than handling queries and adding to higher customer satisfaction rates.
Blockchain and Distributed Ledgers are known as the hottest ticket technologies in Fintech. The digital currency Bitcoin, powered by Blockchain, is a decentralized method for online exchange; posing a threat to the traditional method of banking. One of the biggest opportunities for businesses is to take financial services in the area of Blockchain. Cryptocurrencies are offering users quicker and cheaper ways to complete the transactions. Blockchain is quickly reshaping ways for payments and transactions providing a solid trading platform with increased transparency, reduced costs, and saving a lot of time.
Your Fintech product should power the services and provide a competitive edge over the other products in the market betting on the technologies.
Machine learning and Analytics engines are being offered as a service by Microsoft Azure and Google Cloud Platform lowering the barriers of development. You have to be careful while using these technologies as they aren't fully matured.
Regulations & Security
Regulations are important as they make it difficult to break into financial services. The financial systems are protected from abuse with these laws. The amount of compliance required by the financial institutions post requirements for accountants and lawyers.
With fintech, money handling has paved new ways making it a gray area for regulation. Some fintech product services are dealing with peer-to-peer lending operation with new models and therefore making it difficult for the fintechs' charter applications to be special purpose national banks. Regulations vary depending on the market of every state, country or region you are seeking to operate.
There is a wide range of fraud prevention tools available in the market and merchants have been implementing in their checkout processes and systems. Yet the difficulty in protecting the transactions is getting complicated and costly from fraudulent invasions.
One of the problems that were pointed out for such activities was the seamless integration between the card issues and merchants. Another problem recorded was about chargeback processes. These processes are broken as they have been never designed for sharing actionable intelligence. This is the reason for an unavoidable significant loss suffered by both the card issuers and the merchants.
Chargebacks are always painful for all the parties involved. The merchants and the cardholders complained about the confusing and stressful process they are currently experiencing. Moreover, chargebacks lead to the direct loss of revenue due to the higher rates of accepted customer disputes as a direct expense. For merchants, this becomes lower sales and higher customer friction whereas for the card issuers it acts as a repellent for good customers due to higher costs in recovering losses caused due to fraud.
With the increasing number of chargebacks, the merchant account will be closed thus posing damage to your business. Therefore, identification of the parties is one of the most important elements of any transaction.
Merchants have been already introduced to security technologies like EMV, a payment standard for Europay, Mastercard, and Visa, and fingerprint recognition for safeguarding their transactions from frauds and chargebacks. These technologies ensure that the transaction is validated, authorized, genuine and secure.
With innovative technologies like Machine Learning and advanced data analytics, identifying the shopper in real-time is possible and thus gradually results in reducing fraudulent chargebacks. Merchants need to be cautious about every transaction but should check whether they are declining legitimate transactions as a result of over cautiousness.
Customer Experience
The way a customer interacts with a business is largely dominated by digital channels. The user interaction has been widely shifted in a progressive manner from traditional procedures and branch-based activities to digital ways.
The omnichannel experience involves the fulfillment of consumer demands not only on mobile but also on social media and multiple messaging channels like email, live chat, and SMS. The companies are aiming to achieve customer-centric operations by facilitating customer communication through any channel for business growth.
The omnichannel experience provides the users in banking with consistency, seamless online and offline interactions irrespective of the device, and effortless integration with digital services.
The emergence of fintech is basically on how a financial institution can become smarter with the aim of migrating transactions and sales to digital channels for creating unified, enhanced, and engaging customer experience.
Blockchain, AI and Machine Learning development companies are emerging with these trends and coming up with fiercely competitive Fintech products for the financial institutions adapting to multi-channel messaging and streamlined communications between the business and the consumers. This is providing a boost in sales and customer engagement.
A disruptive FinTech product requires a highly experienced craftsmanship for developing your product and a matured FinTech app development partner to fulfill your dreams.
One of the latest technologies gaining popularity is co-browsing that came into existence for assisting financial services for delivering omnichannel support. This is used by agents as well in insurance, lending, and financial advisors for in-person assistance.
In a nutshell
When you are thinking about a fintech product that would bring transformation and disruptive innovation to the financial services globally, you need to have the expertise, creativity, and a competitive mindset to launch your fintech product in a volatile environment.
Emerging technologies are addressing consumer needs through automation thus posing a threat to the traditional banking methods. Financial institutions and markets are highly operating in the realm of financial disruption in the rhythm of fast-changing technology. Thus a disruptive fintech product will help you in examining the forces with disruptive role, structure, and competition in this cut-throat technical revolution in the fintech space.
Author Bio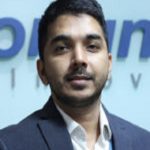 Deepu George is a technology enthusiast and strong believer in agile product development. He has been pioneering financial leadership nurturing the growth of company & focuses on leading Fortunesoft IT Innovation strategies, generating new ideas and consulting on projects.