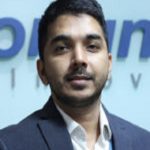 By
Deepu George
September 8, 2020
13 min read
Top 9 security glitches in fintech applications
With the pandemic hitting the economy around the world, the fintech sector has been witnessing a lot of double-edged situations. Since fintech has a meteoric 2020, the industry got flooded with followers due to the disruption in the normal traditional financial system. Technology has been proven as a boon to people in helping them to manage their money remotely. But this remote finance management has invited a lot of security challenges. 
The current situation is actually forcing the users to concentrate more on their health rather than the data. This has proven a benefit for the hackers. They are trying hard to hunt security numbers, credit card information, and other vital data to sell them on the dark web and leverage the benefits themselves. 
The age of Covid-19 has brought some security issues that the fintech companies have to deal with. Let us explore them.
Application security: 
Fintech is all about applications that access users' financial information for performing real-time transactions. Therefore, fintech applications have become the most common attack vector. Moreover, vulnerable code can become an entry point into financial networks for the attackers. 
One of the best fintech security solutions is to have a robust application security infrastructure including a web application firewall equipped with automated threat intelligence. This will help to identify and mitigate threats, whether known or unknown, as well as to detect and patch vulnerabilities.
To get a holistic system, enable automated threat intelligence with an integrated defense system. IT teams face difficulty to manually handle and monitor all threat intelligence within the stipulated time. To support them for gathering and assessing all the threats in a timely manner, Machine Learning can be used. To pace up with cybercriminals and enable the detection and prevention of attacks in real-time, Machine Learning and automation can be integrated into the network security tools. 
Cloud Security: 
Consistency, scalability, and lower costs are the main reasons for fintech organizations to adopt cloud services for a secured fintech application. But the cloud has associated risk and therefore it has to be more secure than a traditional network. Sometimes, disparate point solutions result in the amplification of data movement across these distributed systems while reducing visibility. Also, the cloud has been witnessing a lot of attacks like ransomware, malware, data theft, cryptojacking, and account compromised attempts.
Fintech firms should ensure that the cloud is as secured as their private networks. The same security standard should be applied for both to ensure the security of their financial data. Moreover, security should be dynamically adaptable and scalable so that it can seamlessly allow the growth of security parallelly to cloud usage. 
Furthermore, firms require to implement the internal segmentation to secure the financial data in parallel with cloud access security brokers. This helps to optimize data visibility even when industry security standards are integrated.
Deep fakes
One of the highest-risk AI-enabled crimes of the future is deep fake. In deep fake, realistic fake audio and video are made that impersonates the real situation or person. Deep fake is used to create complete misinformation. With the increase in such sophisticated crime, it has evoked a broad range of criminal activity that exploits people's trust in the organization and brand. 
When it comes to deep fake, Fintech can be affected for the following three reasons:
Impersonations during onboarding
To create a new financial account, the user needs to verify his/her identity with the organization. Using deep fake, the attacker can simply pose himself as someone else. This can be done using a profile picture or through an AI-generated voice. 
Fraudulent transfer and payments
Organizations reach to the person to confirm the identity if they come across a suspicious transfer. This can be due to its size, frequency, or destination. Deep fakes may cause trouble in this phase either by posing the person or by posing as the authority from the organization to get all the information from the account holder. 
False directives
Deep fakes can be used to impersonate authorities who have the power to direct his team to pay the vendor or so on. Typically, the team won't be taking an in-depth interest due to fear of upsetting their bosses.  
AI Fuzzing
A constructive benefit of using AI Fuzzing by cybersecurity professionals is to explore and expose the threats and vulnerabilities of a system to strengthen the software by leveraging the capabilities of smart AI tools.
But, hackers have started misusing AIF and creating increased threat levels. It has become a race for fintech companies to find and fix all the security vulnerabilities and loopholes before the attackers get their hands on them and use them for their benefits.
The current pandemic has created a surge in the usage of fintech apps resulting in the rise of threats to the financial data. Though AI has saved a lot of manpower, AI fuzzing requires humans to manage. For this purpose, security engineers or cybersecurity experts are some of the best-paid professionals and fintech companies are trying best to afford best-in-class security by employing them at this time of distress. 
Data poisoning
Threat actors are exploiting this cybersecurity tool by infiltrating an ML system and injecting instructions to hinder the entire threat detection and elimination process. 
With data poisoning,  the performance of the application is compromised by injecting malicious samples in the training data set and influencing the data process. 
Data poisoning involves the corruption of a clean dataset like mislabelling images or files. With this, the AI algorithm will produce false answers or maybe categorized incorrectly to favor an attacker. 
If the data that is used to train and populate the AI system is corrupted, the stake is really high. It is important that the financial decisions made through these models should be based on trusted and reliable data as AI permeates throughout the organization and broader economy. 
Phishing and spear-phishing attack
One of the oldest tricks in hacking is through fraudulent emails. But this time, we have tech-savvy hackers who are using the potentials of AI to boost their phishing attacks. With AI, hackers can create realistic and deceitful emails and send them in bulk to the targeted customer.
In a spear-phishing attack, the hacker focuses on an employee of the organization. This employee holds vital credentials and other key information on the organization's assets.
This attack is more likely to happen due to the employees working remotely in different locations and confirming identity is no longer possible and sometimes we just ignore it. 
Phishing emails affect fintech in multiple ways like password resets, account fees by encouraging people to share credit card numbers over the phone, and so on. 
Fintech has adopted a solid strategy to safeguard the financial data by use of technology, educating users, and pacing up in parallel with the hackers to identify loopholes and fix them before the attackers try to take advantage of it. 
Pretexting
With pretexting, an attempt is made to cheat an unsuspecting victim for providing the log-in credentials, financial information, and other private data to the hacker thus posing a threat to the fintech app security. 
Victim's inbox isn't the final stop for a pretexting attack. By covering themselves under a trusted party, a pretext attacker attempts to send phishing emails or directs the victim to trickery websites. Sometimes, they cross and go far from their usual pattern by making a call on the phone to request financial data from the victim.  They can use AI-enabled voice or maybe simply can call from their private numbers and claim to be from a survey firm, debt collection agency, NGO, and other financial institutions. 
Skyrocketing traffic
The current pandemic situation has resulted in the growth of fintech app usage. The more the fintech apps are used, the more the data has to be managed and this gives rise to numerous opportunities for man-in-the-middle attacks. Since the possibility of attacks increases with app usage, the storage locations must be protected. 
Data storage has always gained the limelight when it comes to security. Fintech companies are strategizing to manage the heap of data securely. They employ servers on demand due to the physical and digital requirements of their clients. Sometimes, they also rely on cloud servers like Amazon Web Services. 
What is the role of the consumer? They require antivirus solutions, device updates, and awareness about vital information. But, these measures aren't enough. Therefore, it is fair enough that the fintech development companies take lead in safeguarding the consumers' data by providing fintech apps with data protection.
Limiting integrations
There are consumers using fintech applications and associated with traditional banks. Currently, a lot of transactions are happening where the money is moved to and from their savings accounts. Integrations simplify the transfer of funds in a few clicks.
The challenge is integrating cutting-edge financial technologies with banks' legacy systems. Therefore, custom-built APIs are used to ensure seamless integration with the system for hassle-less communication. 
During an uncertain event, like the one we are into, developing a custom API becomes tedious. It has various factors to deal with like development time, data security, and cost. This is the reason fintech startups and enterprises look for partnering banks for sharing the development cost. 
In a nutshell
2020 is all about how the threat levels have increased due to the pandemic that resulted in a surge of digital solutions. The internet is penetrated today with tech-savvy organizations that are ready to provide applications adding value to the consumers and addressing their pain points and behavior. Fintech companies are exploring various ways to prevent data breaches and attacks by adopting high-security AI-enabled standards that meet and combat modern threats.
Author Bio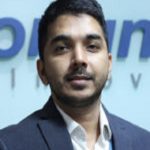 Deepu George is a technology enthusiast and strong believer in agile product development. He has been pioneering financial leadership nurturing the growth of company & focuses on leading Fortunesoft IT Innovation strategies, generating new ideas and consulting on projects.