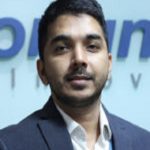 By
Deepu George
June 22, 2021
5 min read
How Fintech has revitalized Banking?
Bill Gates once said, "Banking is necessary, banks are not". This statement by one of the sharpest tech-minds of the century becomes truer with each passing day. He foresaw the digital future where you would no longer need to visit a bank branch for opening an account, transferring money or even getting a loan sanctioned. Thanks to Fintech! a few clicks on your laptop or a handful of taps on your mobile-screen and you end-up completing any of the banking activities, without any paperwork, running between counters, or even being physically present in the bank.
What has Fintech in store for banking?
Fintech is the core behind the most prevalent trend in the finance industry —- going digital. Financial Technology or Fintech aims at improving and automating the delivery and usage of services that involve money. Earlier, the term referred to the technology deployed at the back-end systems of popular financial organizations. Fast forward to 2021, Fintech has come a long way and includes multiple domains such as banking, education, stock-trading, fund-raising, and more.
Speaking specifically of banks, the technology has made them customer-friendly, by offering the clients speed and convenience — the two prerequisites of millennials and elders from Gen Z, for adopting anything that is digital. As an instance, cryptocurrency, a fintech product that can be easily used online, has become the new language of the commercial world. Banks and investment companies have begun exploring its arena, while Facebook—the majorly popular social-media site launched its own digital currency — Libra.
Even budgeting apps such as Personal Capital and Mint, belong to the fintech space. These applications assist consumers in keeping track of their income and expenditures, thereby making them vigilant of their finances at any given point in time.
Banking as a Service (BaaS)
With the emergence of such products in the market today, it has become even more important for banks to shake hands with financial technology. Recently, the majority of the banks all over the globe have been making efforts to globalize banking and render it increasingly deep-rooted. Banking as a Service (BaaS) is the result of a few such efforts. The service seeks to build a model in which licensed banks collaborate with non-banking businesses like airlines, hotels, travel booking sites, and more. BaaS integrates digital banking services like mobile bank accounts, debit cards or payment services directly into the products of such businesses.
Example of BaaS
For instance, if a bank collaborates with a travel booking agency, the bank's system will communicate with the agency's website via APIs and webhooks. This will ensure that a customer has access to banking services directly through the travel agency's website or application. In this manner, any business can become a banking facilitator without applying for a banking license, which as a matter of fact is quite hard to get. Solaris Bank, Starling Bank and Clear Bank are among the leading BaaS providers in Europe.
BaaS vs Open Banking
More often than not, BaaS gets confused with Open Banking. However, the two business models serve two different purposes. In BaaS, the non-banking businesses integrate the complete set of banking services into their products. On the other hand, in open banking, such businesses only utilize the bank's data for their products.
An example of open banking are the financial management apps that accumulate the information from all your different banking accounts into a single application, helping you to keep a watch over your money and save better. The collection of transactional data by the apps is done through an API integration with the banks' systems.
Exponential Banking and its Benefits
The role of Fintech in the banking industry is rising with each rising sun that brings in a new day. A new term that has spread virally in the commercial world is that of 'exponential banking'. It refers to the type of banking that enhances the service-quality offered by businesses, thus exponentially increasing your business globally.
Machine Learning, blockchain, virtual reality, and more serve as some exponential technologies which use a design-led approach to set up innovative solutions for any kind of challenges faced by the banking industry. People like data scientists and developers work to increase the market adoption of new technical solutions.
Let's talk of Digital Innovation
Another fresh term that has created quite a buzz in the banking domain is that of Digital Innovation. It facilitates customer experience, operations, decreases friction and costs incurred. Innovations on the digital front are radically improving the business models that have served as the foundation of organizations for decades together.
Today, digital transformation is much more than simply delivering the offline services in an online format. Its business objectives are categorized taking into consideration a variety of factors, such as, the target set of audience. organization's structure, culture, and more. A bank's success depends on fostering innovation, reskilling the workforce, updating systems and processes, fostering innovation, and making consumer experience better day by day.
In a nutshell
The long and short of all of this is that fintech when deployed diligently can disrupt the way banks work, just like it has disrupted multiple other industries. The more tech-savvy banks become, the easier it will be for them to offer services and for customers to utilize the services provided to them. Banks collaborating with Fintech establish a concrete foundation for themselves globally, and leave a satisfactory smile on their customers' faces when the two interact digitally because of the speed and convenience with which banking goes ahead.
As we are currently living in a pandemic struck world, using exponential technologies for digital banking is the best way to facilitate the customers, thus providing banking facilities and even registering their grievances, if at all they have any; listening to the clients in a one-to-one set up, and being efficiently more customer-centric. If customer-satisfaction and overall growth of the bank are your objectives, leveraging Fintech will make the road ahead easier to travel.
Author Bio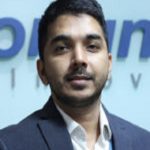 Deepu George is a technology enthusiast and strong believer in agile product development. He has been pioneering financial leadership nurturing the growth of company & Focuses on leading Fortunesoft IT Innovation Strategies, generating new ideas and Consulting on projects.