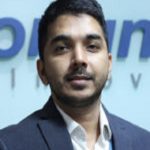 By
Deepu George
April 6, 2021
12 min read
How to elevate the user experience in mobile banking apps?
Fintech has simplified our lives in multiple aspects. Earlier you had to visit a bank branch, wait in a queue, and make basic transactions such as paying bills, transactions, money transfers, and deposits of funds. Loan approvals, money investment, or insurance contracts would take a couple of weeks or months. Today all these complex deals, transactions are seamlessly performed within a few clicks in your fintech app.
The customer journey in a banking app isn't linear. Therefore, banks should provide a 360-degree view to the customers for a better understanding about their journey, needs, preferences, touch points, issues, and solutions that will further enhance the customer journey throughout your mobile banking app.  
Customers have reached the brim where they want to adopt banking apps for their financial needs. They are leaning towards those banking services that offer banking apps and require minimum efforts to perform a particular task. This is proved with the whopping mobile banking adoption figures listed below.
By 2024, the total number of online and mobile banking users will exceed 3.6 billion
97% of millennials use mobile banking
86.5% of Americans used a mobile device to check their bank balance in 2020.
The total value of payments made using mobile devices reached $503 billion in 2020.
According to statistics, it is predicted that in 2021, the mobile app market will generate a revenue of $693 billion
From the facts and figures above, it is quite evident that mobile banking has become mainstream where serving customers through a mobile app is efficient and capable to nurture customer relationships. 
Banks should leverage the benefits of disruptive technologies that would open the window of innovation to embrace advanced technologies to score highest in offering optimal user experience.
Let's explore the top 6 techniques to elevate user experience in your mobile banking app.
Streamlined navigation and reduced customer input
Proper navigation and instant redirects to the relevant contents are the keys to a good mobile banking app design. 
Simple and intuitive navigation includes:
Landmarks and icons
Search boxes
Section navigation tools
Labels
To incorporate all these important features for streamlined navigation, you need to know where you're losing your customers in the navigation process through touch heat maps. This will help in rectifying the problem areas. Another way to simplify navigation is to highlight the respective icon of the screen they are looking at.
A mobile banking app that requires a lot of effort from the customer, proves to be the biggest reason for its abandonment. With data population or setting data by defaults for repetitive actions, a lot of customer efforts and errors will reduce. 
To reduce the data entry, you can add the following features:
Auto-suggestion
Spell-check
Text prediction
To delight your customers, banks should aim to deliver a high-quality user experience through their apps in the long run. It is essential as it pays off through an increase in revenue, further resulting in elevated customer satisfaction levels and boosting customer loyalty.
Pace with the market
To become market leaders, offering just a handful of functionalities in your banking app won't allure your customers to download your app and use it. Therefore, leading banks are leaning towards disruptive technologies such as Artificial Intelligence to enable predictive analytics, voice recognition, and recommendation engine in their mobile apps. 
One of the best examples is the Royal Bank of Canada. They have added the Siri functionality in their iOS mobile app to engage their customers. The Siri functionality suggests shortcuts to the customer on the basis of the user's activity in the banking app. Also, with the voice command, the customers can easily accomplish regular tasks such as balance check, bill payment all at the voice command.
Enrich user experience by integrating voice technology for rapid transformation and to stay ahead in the market with the customer needs. 
Security- A major concern
The top concern of a financial institution is its data security. With the rise in fraudulent activities and data breaches, securing customers' financial data is vital. If your banking app isn't secure, app design, features, and performance won't be able to save your app from getting abandoned. 
Banks are leveraging numerous security measures to safeguard their customers' data from third-party intrusion.
Another technology disruption that is making headlines to protect the users' data is blockchain technology that makes it difficult to modify, hack, and transfer without the customer's permission.
Another way to address security issues is by incorporating technologies such as fingerprint, voice, and facial recognition. These biometric technologies use physical characteristics and behavioral patterns. This helps in reducing user friction and security lapses by increasing the usability of the app.
By adopting various security measures, banks can strengthen customer's trust in the bank and maintain an excellent balance of unique UX design and unmatched security. 
Boost user interaction with mobile onboarding
Your banking app's functionality must outstand the expectations of users as it's available to your customers and members. Most of the financial institutions own a fintech app that provides balance inquiries, overdraft alerts, fund transfers, credit and debit information, EMI alerts, and new products and offers the bank has launched. But most of the banks fail to initiate the customer relationship in the first place, resulting in a lowly user experience.
Today, potential customers prefer to carry out all their banking processes online. Therefore, a customer downloading your app is itself a win-win situation for you. And creating hurdles after installation will further result in the abandonment of the app. 
Normally, to start with an app, the users need a username and password. Ask your existing customers to download the app and register themselves. 
Once the user enters the credentials, everything should be simple to use and understand. Suppose, if your customer wants to open an account, he will simply click on the 'Open an Account' button which will redirect him to the next steps. But some of the apps load the user with a lot of information. 
Every screen can come as a barrier to the completion of the mobile onboarding process. Therefore, to keep your customers engaged throughout, keep the process as simple as possible. You can provide an option to quickly click their ID. This will trigger a data extraction feature that will help in pre-filling the form with their personal data. The ID image will be collected for KYC-related compliances. When a customer opens an account through a mobile device, the process should be seamless and intuitive. 
Higher engagement with UX Personalization 
The power of personalization for banking apps hasn't been explored yet. When we say personalization, it includes both UX and content personalization.
UX personalization involves:
Customizing home screens
Color selection
Increase and decreasing font sizes
Customers who prefer self-service, how-to-guides, and quick access to customer support would assist them. 
Content personalization can be used through geo-fence-based notifications or reminders that can be sent to customers when they will be near the vicinity of the bank. This real-time location-based user experience design can increase app engagement by 2x.
You can add personalization experience in your banking app by including budgeting tools, financial advisors, or automatic scheduling appointments. These functionalities can be easily integrated with AI. AI can be used for product recommendations to cross-sell products to the right customer at the right time.
Financial information at a glance
The users need to understand their financial situation properly. Therefore, they need to know their balances, excluding money needed and routine bills.
Another feature of the fintech app that helps the users to get brief info of the financial status is about the income and expenses of their past month. This information can be compared to the average levels in the same period for a particular account.
Your fintech app will be perfect if it could provide a forecast of the account balance for the next scheduled financial income. By simply clicking on the balance summary, the users can quickly evaluate their financial situation and can plan their expenses accordingly.
In a nutshell
To provide exceptional financial services to the customers, your mobile apps shouldn't be just a tool to check balances and conduct transactions. It should be an all-rounder that offers services catering to the ever-changing demands of the digital economy. 
Every financial institution is aiming for a customer-centric mobile banking app that will generate revenue through simplicity, hyper-personalization, robust security, contextual marketing, and modernized technology adoption. 
Mobile app development companies are very specific to the requirements to build successful mobile applications with a realistic budget and a team of seasonal experts. 
Author Bio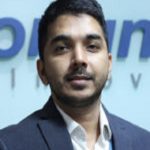 Deepu George is a technology enthusiast and strong believer in agile product development. He has been pioneering financial leadership nurturing the growth of company & focuses on leading Fortunesoft IT Innovation strategies, generating new ideas and consulting on projects.