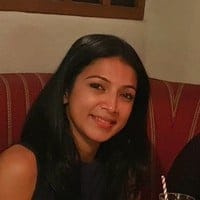 By
Sheelu George
December 22, 2020
12 min read
How on-demand mobile apps create an impact on the customer ecosystem?
On-demand mobile solutions are becoming popular each day in this era of technology. The on-demand services offer the ease of availability and accessibility with a few clicks, making it a comfortable choice for the consumers to opt for availing services. 
Everyday businesses are trying new ways to engage their customers with their brand. With the dominance of smartphones, technology is introducing various ways to engage them through their mobile devices and on-demand service is such technology disruption.
Every year, the on-demand economy is fetching 22.4 million customers with a spending of about $57.6 billion. 
This amazing figure is definitely an indicator to your business for getting an on-demand mobile app at the earliest! Why? Here are the reasons. Let's dive in.
The business benefits of on-demand mobile apps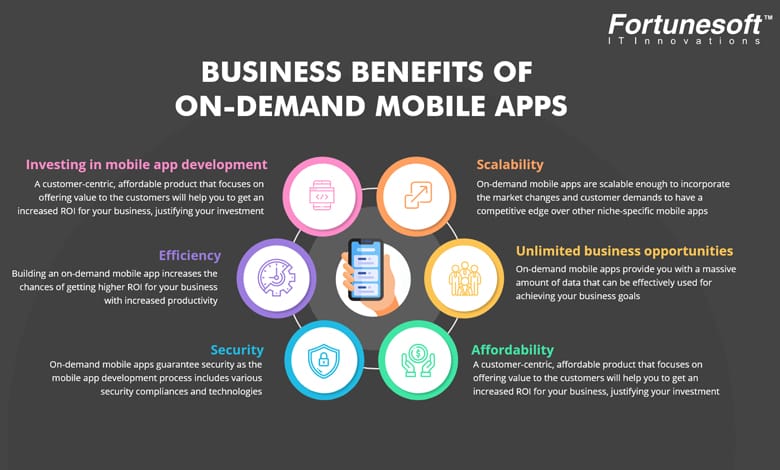 Today, the on-demand mobile app development has its presence in more than 80% of businesses. So what is an on-demand mobile app? Let's check out.
An on-demand app services provide a platform to connect users to different businesses. On-demand mobile apps have their presence in various sectors like healthcare, fintech, BFSI, eCommerce, real-estate, entertainment, travel, and many more. Consumers prefer on-demand app solutions because they get an opportunity to handle multiple services. These services range from  grocery, laundry, food delivery to car rentals, personal health services, and many more. 
Therefore, leveraging the benefits of on-demand mobile app development results in increased sales and ROI with a greater brand reputation. Some of the business benefits of having an on-demand mobile app:
1. Investing in mobile app development
The number of mobile users has increased by 4.68 billion between 2015-2020 as per the reports by Statista. These figures are enough to prove that every business should invest in mobile app development and must include mobile strategy in their marketing plans as well. One of the best ways to attract your target audience is incorporating custom features in your mobile app for a particular niche. 
2. Efficiency 
Partnering with the right on-demand mobile app development company for on-demand mobile app development increases the chances of getting higher ROI for your business. An on-demand app builder from a leading on-demand app development company will help you to walk through the entire journey of on-demand app development and provides you with the road map to reach your business goals. Your business app will have custom-built features, user-friendliness, and usability as major traits. Afterall, a successful business application focuses on increasing the productivity of the business solving the purpose of the intended customers who would use the app. 
3. Security
Businesses aim to keep their data safe and secure without compromising on quality. Developing a secure mobile app requires to follow standard security compliances for data protection across major platforms such as Android, iOS, and Windows. Mobile apps have access to  huge amounts of data. Therefore, it is essential to restrict unauthorized access to data. Various methods like encryption, tamper-detection technologies, session handling, and many more are employed to make your mobile apps secure.
4. Scalability
The market is continuously evolving. The consumer demands are increasing each day. To stay ahead in the competitive curve, your app needs to meet all the demands of the customers and adapt to the market changes. Therefore, your mobile app should be scalable enough to incorporate all the changes to have a competitive edge with other niche-specific mobile apps.
5. Unlimited business opportunities 
With a mobile app for your business, you get to explore to a massive amount of data of your customers that gives you opportunity to:
Analyze data and stay updated 

Improve your business through analyzing buying patterns

Invite audience for upcoming offers and sales

Effectively use email marketing for your products

Customer retention through personalization

Offer personalized support to customers 

Establish a connection between your brand and customers

Boost conversions to unattainable levels
6. Affordability 
As a business owner, you need to figure out your spending. If you think to choose a generic solution for your business, you will land up to spend more in the long run. Generic solutions are too common in the market and won't give you the limelight that you are looking for. A customer-centric product that focuses on offering value to the customers will help you to get an increased ROI for your business, justifying your investment. 
The customer benefits from an on-demand mobile app
Dive into the details of the customer benefits that they would get from your on-demand mobile app in 2021 and beyond.
Ease of selecting a provider:

With an on-demand mobile app, the customer gets to select a service provider. The user can choose a provider for service repeatedly. The service provider that is being chosen repeatedly, gets added to the favorite list and both the customer and the service provider will be notified about the same.

Tracking facility:

With on-demand mobile apps, customers are offered with GPS tracking where they are updated about their order. Live location facilities help the customers to locate the delivery agent and their orders along with the notifications.

Multiple payments:

There are multiple payment options in the market ranging from digital wallets to cash on delivery. Customers have their preferred choice of payments and providing them with multiple payment options opens the door of higher sales for you. Multiple payment options encourage your customers to pay as they like without any hassles. 

Customer rating & review:

Your mobile app success depends on what your customers say about your app. Client testimonials, ratings, feedback, reviews are important to know the success of your app. These ratings are given during the delivery of a service or product or when a service is offered. Such reviews will create a positive impact on your business and enhance the user experience and app quality.
To leverage the benefits of on-demand mobile apps, you have to develop an highly extensible mobile app for your business that accommodates the right features. Let us check them out.
Top 10 must-have features in on-demand service apps
For an on-demand app development, the most crucial thing that comes to your mind is the list of features that your app must-have. Undoubtedly, the best mobile app development company offers you the crucial features that define your business perfectly. Still, we have come up with a checklist of some must-have features in your mobile app. Check them out!
Security
One of the most crucial factors for the survival of your mobile app is security of your app. Whether data or payments, whenever you download an app from the app store, you check out the security features of the app. Some of the apps have various trust symbols that prove their authenticity and ensure the safety of your transactions and data.
Notifications
One of the most convenient marketing strategies is notification. If you have any upcoming offers or sales, you can simply reach out to your customers with notifications. 
Live Tracking
This feature is essential as every user wants to be assured about their orders. For example, if your app is an on-demand grocery delivery app, GPS tracking will help your customer to check the status of the delivery agent. With a live tracking feature in any on-demand mobile app, your customers will be linked to the live status of their orders, delivery agent, and the exact location. Your customers will continuously get updates about their product or the service they have opted for. 
Multiple payment facilities
This pandemic has resulted in a surge in online payments globally. Therefore, restricting your customers to a particular payment option isn't a sound idea. A customer may have his/her preferred choice. They may be skeptical to accept any other payment option, leading to abandonment of your mobile app. It is beneficial for your business to provide multiple payment options like credit cards, debit cards, net banking, virtual wallets, and cash on delivery. 
Intuitive user interface and experience
If you have a mobile app that has a complex UI and cluttered content, how long would you have been using the app? You give a fair reason to your mobile app user to abandon it if you fail to provide an intuitive user interface. An optimal user experience on your mobile app is conducive for your business. An ideal mobile app should be easy to use and fulfill the customer needs. Your mobile app should have the potential to engage your audiences and define their customer journey.
For a customer, using your mobile app shouldn't be a herculean task. Your customers should be able to play around your app. They should be comfortable in adding or removing products from their cart. Customers should easily filter and sort the things they are looking for. In a nutshell, customers should find what they are looking for. 
Round the clock customer support
Your mobile app should provide efficient customer support via chat, messaging, email, and call. All the channels should be active and provide a minimum time to resolve the issues raised by the customers. It will be ideal if your app provides a helpline SOS number in case of emergencies. Another option is employing a chatbot on your app to answer basic queries regarding shipping and delivery.
Feedback, ratings, and reviews
Your app should facilitate customer reviews and feedback. A customer's feedback provides a certain level of authenticity. When your app has customer ratings on a particular service or product and has shared their experience with other buyers, your sales increases by 10X as it helps your app users to make a wise decision.
Wishlist
There are multiple occasions when you choose to buy later or the item that you are looking for is out of the stock. In such situations, the wishlist feature is important for your on-demand mobile apps. The wishlist feature will help your customers to make a purchase when the product is available or when they have made their minds to buy. 
Booking & cancellation
Many times a customer wants to cancel their booking for some reasons. Your on-demand mobile app should have this feature that helps the customer to cancel the booking without hassles. It should also allow the customer to reschedule the booking as per their time and comfort.
Past order history
With disruptive technologies like AI and ML, today on-demand apps have become a treat for the users. The more the customers get a personalized experience, the more they get engaged with your brand. Recent search activity features will help them to find the products that they were earlier looking for. The past order feature will give them the facility to refill the past order. 
Industries that are greatly impacted by on-demand mobile apps
Some of the verticals have been greatly impacted by on-demand mobile apps. Check them out.
Home & Cleaning Service Industry: On-demand mobile apps for home and cleaning services helps in managing the customers and staff. The customers can book and cancel a service. The service provider can assign the task or can cancel the services as per the availability of their staff. Both the stakeholders have access to the dashboard and can manage through it.
Foods & Restaurant Industry: The on-demand food delivery apps like Uber, Zomato helps the user to browse to multiple dishes, restaurants, and cafes. They can simply select and place their order. The on-demand mobile app manages restaurants, automates order management, delivery, real-time order and delivery tracking, and many more. You can create a great impact and reach audiences with online food delivery apps, restaurant apps, food delivery apps, and many more. 
Taxi booking services: The on-demand taxi booking apps like Uber brings a lot of opportunity for commuting business. It provides users to connect with the taxi drivers to avail best taxi services.
Healthcare Industry: On-demand healthcare apps connect patients with doctors. It helps to manage appointments, staff, request for medical device repairs, manage shifts, and many more. It is one of the booming sectors where mobile app development has a lot of scope for technological innovations and rapid discovery. 
Tours & Travel Industry: On-demand travel apps like Travelport, Airbnb provide high-quality travel services on mobile devices to users. 
Wrapping it up!
Are you a startup who is focusing on the on-demand economy? Or are you an enterprise who is planning to expand your business online through mobile presence? Whatever business you are in, on-demand services are going to flourish in coming years and have no look back for a long time. 
On-demand services are changing the customer ecosystem and modernizing the way the services are offered. On-demand mobile apps aim to offer customers effective and efficient services  quickly. Customers like to get services within a few clicks and within their comfort. At this current market situation, the role of on-demand is undeniable and there is more to witness in the coming years.
Author Bio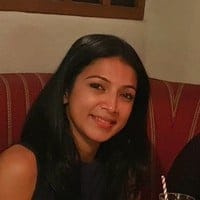 Sheelu George is a Senior Business Analyst at Fortunesoft IT Innovations.A technology enthusiast and a strong believer in end-to-end software product engineering, agile & devOps.