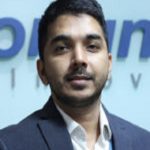 By
Deepu George
August 11, 2023
min read
An Exclusive Guide to Crowdfunding Platform Development
In the ever-evolving entrepreneurship landscape, funding can be a significant roadblock for aspiring startups. People have creative concepts to revolutionize the digital era, but they will get struck amidst due to the funding required to complete the project. Many startup ideas have been buried in the last few years due to financial worries and traditional funding(getting a loan from the bank).
One can't get sufficient money easily for running a long-term business in this competitive digital world. Even though, if a startup company needs a loan, it must have a good credit score and the required collateral from the bank. In a world where innovative ideas often struggle to get capital through traditional funding, crowdfunding platform development emerges as a revolutionary solution that empowers ambitious startups to transform their notion into reality.
The concept of crowdfunding platform development is to help enterprises, small businesses, and startups raise the desired amount of funds based on their niche flourishingly. Many startups collected funds and made huge returns with their brainstorming ideas. That is why the demand for crowdfunding app development services is high in a major country, the US. 
This easy guide will empower your knowledge with all the paramount aspects of crowdfunding platform development. Prior to knowing its importance, let's first dive into a glimpse of crowdfunding.
What is a Crowdfunding Platform?
A crowdfunding platform is an online intermediary that facilitates the process of raising funds from a huge number of people to finance various projects or ventures. Early-stage startups, entrepreneurs, social activists, and nonprofit organizations leverage this platform to showcase their ideas and seek financial support from a global community of potential investors.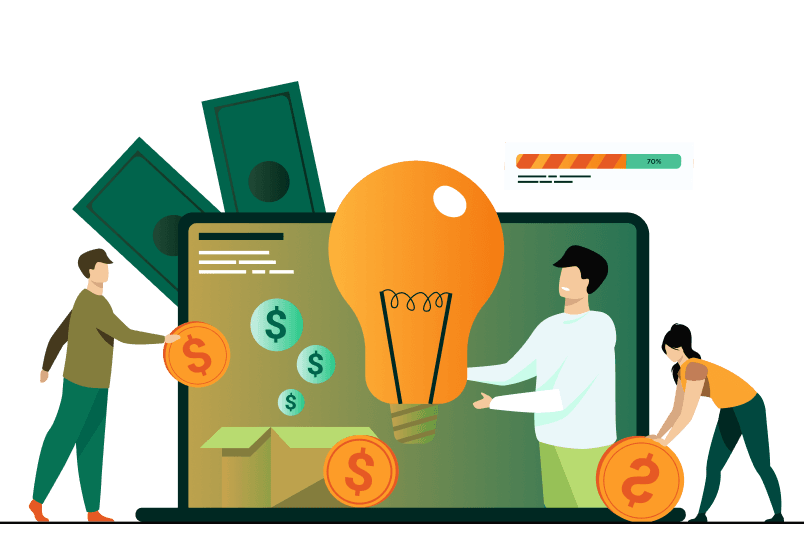 To put it simply, it is the platform or website where any startup, enterprise, or individual who desires to collect funds can easily raise their capital without hassle. These people can raise funds from multiple resources belonging to the various locations. This platform serves as a medium for new ventures to achieve business objectives without risk. 
Besides, crowdfunding platforms enable startups to create campaigns, sharing their vision, goals, and progress updates. Running a perfect campaign allows startups to taste the fruit of success in raising capital. 
On the flip side, investors can contribute their funds based on their interests and belief in the project's potential. It created a demand and need for crowdfunding platform development services among startups, small businesses, and enterprises. 
Prominent Crowdfunding Platforms in the Global Marketplace 
Presently, many crowdfunding platforms are evolving in all parts of the world. However, only a few grabbed the attention of investors and startups with their breathtaking functionalities and intuitive interface. 
Here we disclose the most popular crowdfunding platforms that helped many people to collect funds and make their vision come true.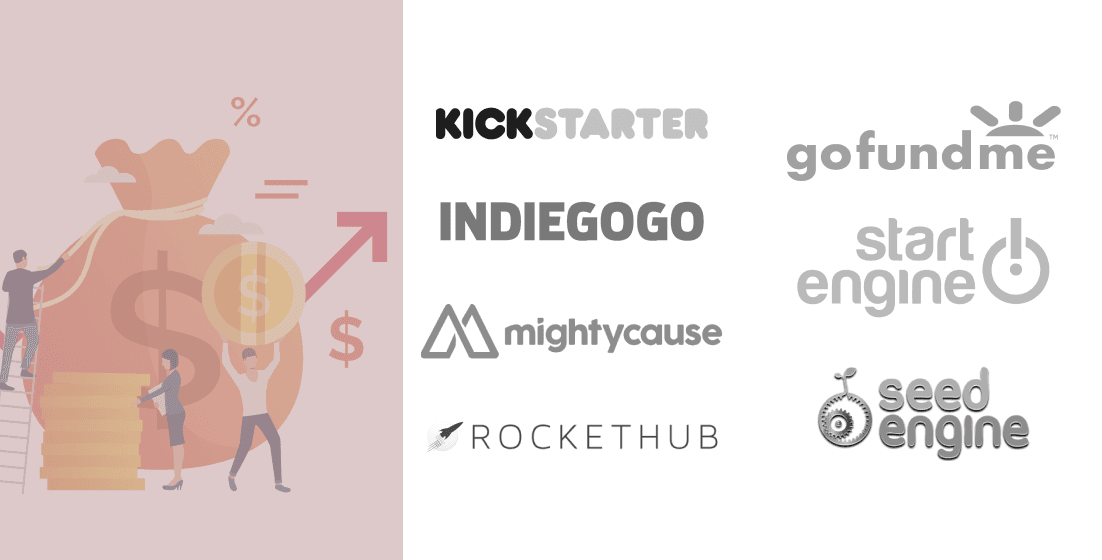 These are the top platforms that people can utilize for raising funds & investing in legit projects. If you are a startup looking to develop a crowdfunding platform like Kickstarter or any other prominent platform, you can leverage the inimitable crowdfunding platform development services to embrace the fintech industry.
Before getting this service, you need to be aware of its types. So, let us see. 
Types of Crowdfunding Platform Development 
Creating a secure crowdfunding website or app is an ideal choice to raise funds for your unique project or serve as a medium for emerging startups to collect capital. Therefore, knowing its types or models is an added advantage to building the perfect platform most people seek. 
As of now, there are different sorts of crowdfunding platforms globally. Crowdfunding platform development encloses various types of platforms, each tailored to cater to specific funding models and industries. 
Here are the primary types of crowdfunding platform development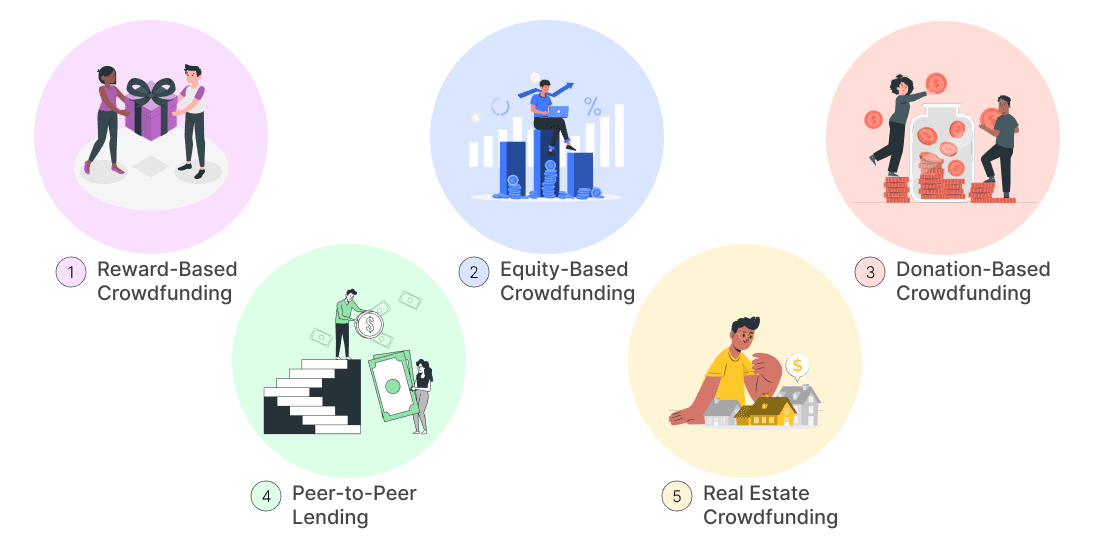 Let us see all these types briefly with a few instances for better understanding.
Reward-Based Crowdfunding
One of the popular types of crowdfunding app development is reward-based crowdfunding. This type allows project creators to offer rewards, products, or services in exchange for monetary contributions. Besides, investors support the startup project by contributing funds or outstanding crowdfunding ideas with the expectation of receiving tangible or intangible incentives.
Examples – Kickstarter, WeFunder, and Indiegogo
Equity-Based Crowdfunding
Like other platforms, this platform also permits startups to collect funds online to propel their business to the next stage. Startups can easily captivate more investors to the platform as it enables them to get shares or stakes instead of fiat money. Therefore, investors can become partial owners and have a financial stake in the project's success. Since it has a unique characteristic, this crowdfunding type is more familiar among investors. 
Examples – Fundable, Republic, Crowdfunder, EquityNet, and FundersClub
Donation-Based Crowdfunding
Donation-based crowdfunding platforms facilitate fundraising for charitable causes, nonprofits, social causes, or personal emergencies. Investors contribute without any expectation of receiving financial returns or rewards. Typically, this platform development type will be the best fit for charity projects or social causes. 
Examples – RocketHub and GoFundMe
Peer-to-Peer Lending (Debt Crowdfunding)
P2P lending or Debt crowdfunding involves individuals or businesses borrowing funds from a pool of investors directly without the intervention of middlemen or any centralized authority. This platform type is powered by the decentralization concept. Borrowers must repay the loan with the agreed interest over a specified period.
Examples – Lending club, FoFundMe, and Prosper
Real Estate Crowdfunding
This platform type focuses on real estate projects, allowing investors to pool resources to fund property development or investments. Investors typically receive returns based on rental income or property sales.
Examples – CrowdStreet and DiversyFund
The above-listed are the distinct types of crowdfunding platform development. The choice of crowdfunding app development depends on your business goal, the type of funding model preferred, and the target audience. You can hire qualified crowdfunding platform developers who can create a robust and scalable crowdfunding website or app to suit specific niches. And provide a seamless experience for project creators & investors.
Why Should You Develop a Crowdfunding Website?
Creating a crowdfunding app or website will allow you to raise capital and achieve your goals rapidly. You can also develop a crowdfunding platform to help other emerging startups, small businesses, and enterprises to collect funds for their new project. You can generate an enormous amount of profit by doing so. It is one of the significant reasons to invest in crowdfunding app development.
You might ask – How a crowdfunding platform owner can make profitable revenue. But before that, you must think to yourself how leading crowdfunding websites or apps like GoFundMe, Kickstarter, and Indiegogo offer this kind of service without making profits. These prominent platforms are making lucrative money with multiple revenue streams. 
For example, let us take the GoFundme platform. GoFundMe generated more than $113 million in revenue with millions of customers in a year. 
How is it possible? 
They have unique features that attract global audiences, a user-friendly interface, and ideal monetization models for generating revenue.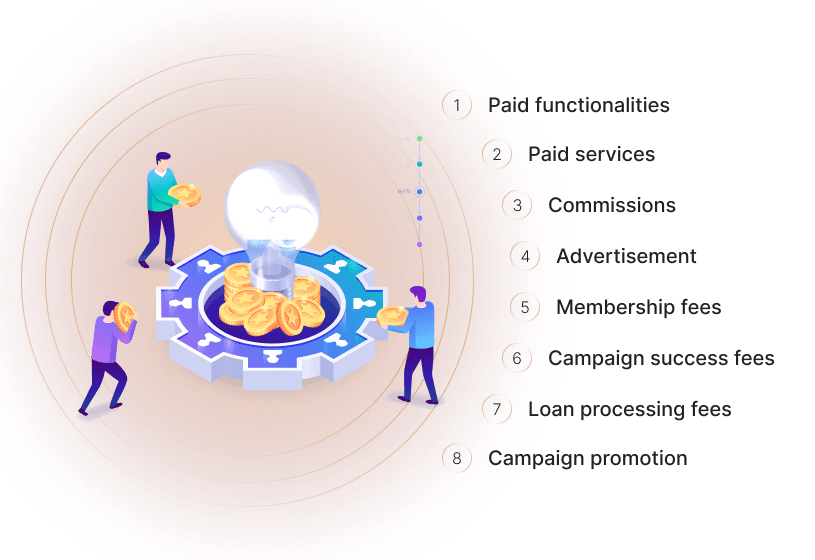 You can also enable these monetization models while building your crowdfunding platform and make hefty returns like industry-leading crowdfunding websites. 
Not only GoFundMe but also Kickstarter and Indiegogo are making huge profits and ranking in the top 10 positions in the crowdfunding market globally.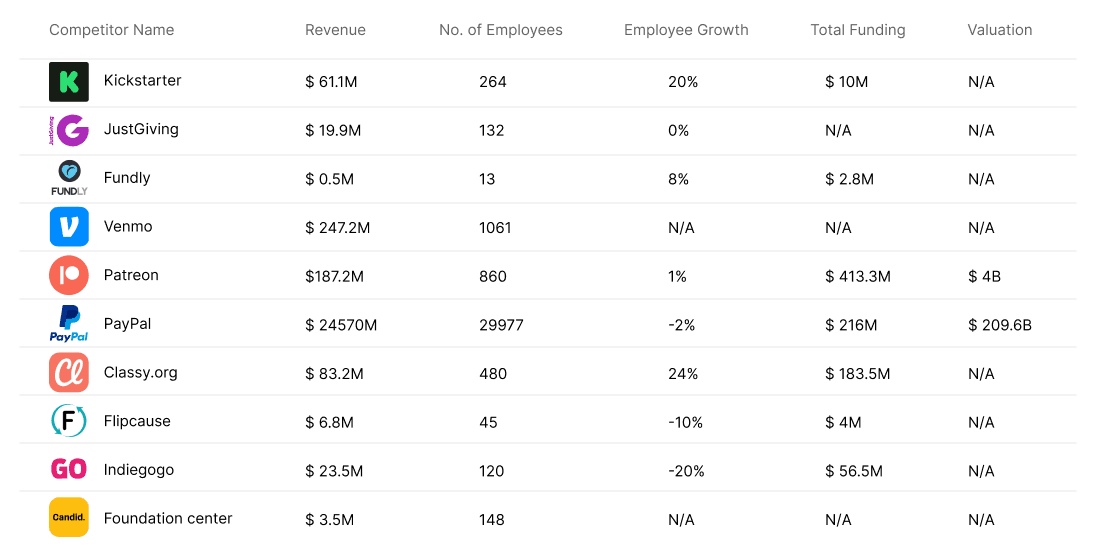 Another major reason is the crowdfunding market size in North America and the opportunities for startups to scale. The current global crowdfunding market is $1.41 billion, and experts claim that the market can grow from $1.41 billion in 2023 to $3.62 billion by the arrival of 2030.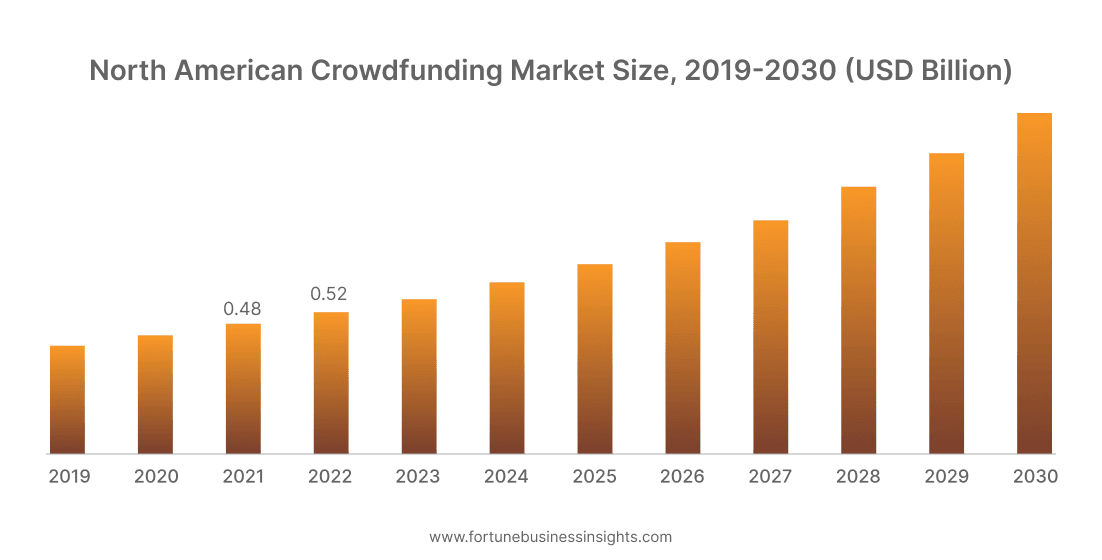 Building a crowdfunding platform is a great alternative to traditional funding and you can neglect all the issues faced in traditional funding. Besides, you can reduce the risk for investors and project creators. Furthermore, investing in crowdfunding website development will be perfect for pre-sales and making good revenue.
These are the notable reasons to develop a crowdfunding website or app by leveraging the premium crowdfunding development services in the industry.
Next, let us jump into the fascinating section of the article. 
12 Easy Steps to Create a Crowdfunding Platform
Creating a robust and user-friendly crowdfunding platform might be a daunting task as it requires careful planning, website development expertise, and consideration of legal & security aspects. If you are willing to launch a successful crowdfunding website, then follow the below-outlined 12 easy steps. 
Here is a step-by-step guide to help you get started with crowdfunding platform development.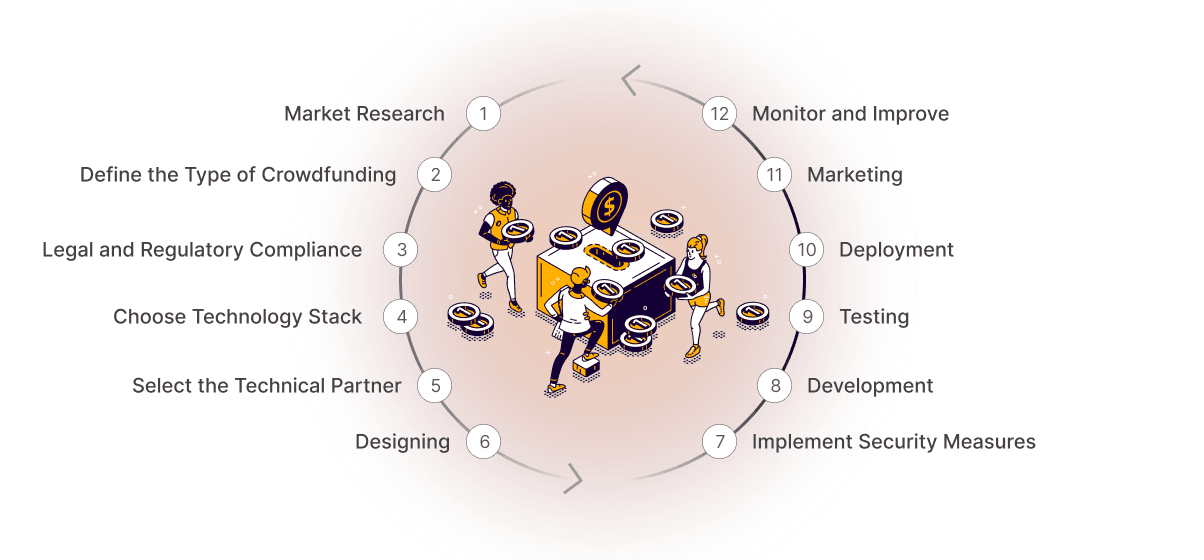 Market Research
First, you must conduct in-depth market research to understand the demand for the crowdfunding platform. Next, you must identify your target audience and analyze the existing competition. You can come up with an outstanding idea by doing so. 
Define the Type of Crowdfunding
Determine the type of crowdfunding platform you want to create. As stated earlier, five main types exist in the market with different workflows. Reward-based, Equity-based, Donation-based, Debt crowdfunding, and Real estate crowdfunding are the five major types. You can pick any of these according to your needs and the audience you target.
Legal and Regulatory Compliance
Familiarize yourself with the legal and regulatory requirements for crowdfunding platforms in your target market. Ensure you comply with all relevant laws and obtain necessary licenses if required before deploying.
Choose Technology Stack
Many technology stacks are available in the market for developing a crowdfunding website. But not all programming languages will be the perfect fit for your project. Therefore, select the appropriate technology stack and development tools based on your requirements and scalability needs.
Select the Technical Partner
Developing a crowdfunding website is not everyone's cup of tea. It requires deep knowledge of back-end technologies, skilled designers, and web development expertise as it involves attracting investors and financial transactions for raising capital. So hire qualified crowdfunding platform developers from the top-tier development company to get complete technical assistance from ideation to deployment.
Designing
With the aid of the development team, create an intuitive and visually appealing user interface that allows project creators and investors to navigate the platform seamlessly.
Implement Security Measures
Prioritize crowdfunding platform security by incorporating encryption, secure payment gateways, and protection against fraud and cyber-attacks. Integrate reliable payment gateways to facilitate transactions between project creators and backers.
Development
The hired development team will begin to create the crowdfunding platform using programming languages, frameworks, and databases suitable for your chosen technology stack.
Testing
Conduct extensive testing to identify and fix bugs or issues. In addition, you can also perform user testing to ensure a smooth user experience.
Deployment
Once the designing, development, and testing part is over, you are ready to launch your platform. Deploy the crowdfunding platform in a secure hosting environment and make it accessible to your targeted audience.
Marketing
After deployment, develop a marketing strategy to attract new project creators and investors to the platform. You can utilize digital marketing strategies, social media platforms, and partnerships to increase visibility.
Monitor and Improve
It is the final step. To become a prominent leader in the crowdfunding market, continuously monitor platform performance, user feedback, and analytics. Identify areas for improvement and implement updates as needed with the help of your chosen technical partner.
Follow these 12 steps to deploy your visionary crowdfunding platform and accomplish your objectives. Now, let us see.
Essential Features of Crowdfunding Platform Development
Developing a user-friendly and feature-loaded crowdfunding website is crucial for attracting more investors. Enabling the exemplary functionalities will make your platform visually appealing and responsive five times faster than your expectation.
Moreover, incorporating the latest features will help you to expand the user base globally. In return, you can earn a reputation in the fintech industry and generate lucrative revenue.
Here is the list of user and admin panel features; a platform must hold at the deployment time.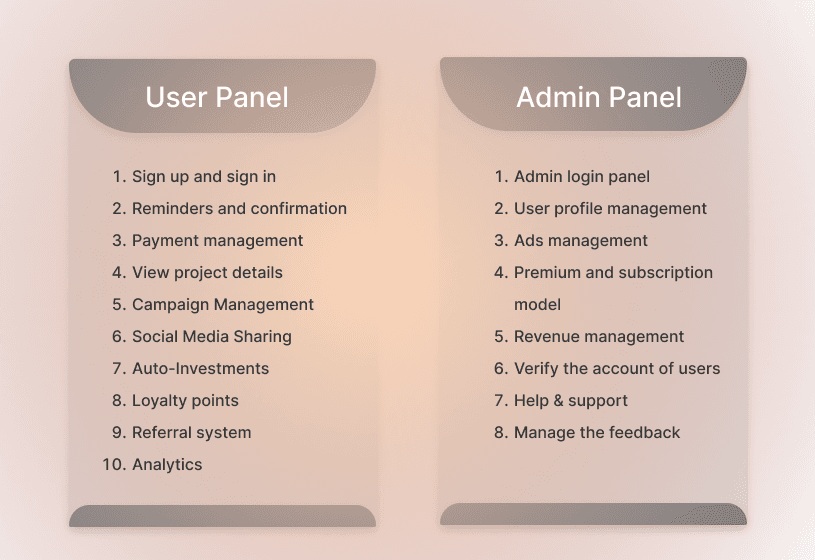 Enabling these premium features in your crowdfunding website, app, or both is necessary to launch a successful platform. As a startup, you can analyze the competitive market, your target audience, and your budgets before integrating the features into your platform.
Creating a function-rich and alluring crowdfunding platform requires more time, technical expertise, and professional assistance. Therefore, collaborating with an industry-leading development company like Fortunesoft will help you to reach great heights in the worldwide market. 
Why Choose Fortunesoft to Create a Crowdfunding Platform?
Fortunesoft is a reputed crowdfunding platform development company in the US. Developing fintech applications and websites has been our core expertise since the start. We have 14+ years of experience in offering world-class technology solutions for fintech startups, product managers, enterprises, and small businesses with utmost perfection. Being an industry pioneer in this field, we excel in creating a superfine crowdfunding website, application, or both based on your necessities with cutting-edge technology stacks.
Hire our skilled developers to kickstart your crowdfunding project right away!
Author Bio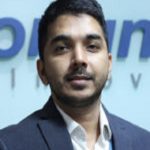 Deepu George is a technology enthusiast and strong believer in agile product development. He has been pioneering financial leadership nurturing the growth of company & focuses on leading Fortunesoft IT Innovation strategies, generating new ideas and consulting on projects.